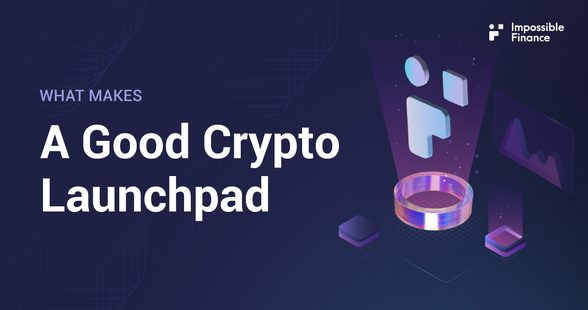 4 Characteristics of a Good Crypto Launchpad
At Impossible Finance, we believe that accessibility, security, project quality and a strong community are the makings of a stellar launchpad. The absence of any of these characteristics is detrimental to them achieving long-term success.
What do Polygon, Harmony and STEPN have in common?
These colossal projects all had their beginnings on a crypto launchpad, bringing early investors up to 1000x returns.
The opportunity to invest in such projects at an early-stage brings significant opportunity for profit should a project — like Axie Infinity— take flight. The success of such "moonshot" projects is a key reason that crypto launchpads like Binance Launchpad have seen rising popularity.
So, what exactly is a launchpad?
Launchpads are platforms that allow new projects to raise capital by selling tokens to early investors.
Traditionally, these sales are reserved for large venture capitalists and crowdfunding platforms. Launchpads therefore accelerate financial inclusivity by allowing the average investor to participate in new project launches.
For more on what you should know about launchpads in crypto, check out Treehouse Finance's article!
What makes a good crypto launchpad?
At Impossible, we believe that accessibility, security, project quality and a strong community are the makings of a stellar launchpad. The absence of any of these characteristics is detrimental to them achieving long-term success.
Accessibility
Crypto is meant to provide fair opportunities to everyone, removing barriers typically seen within traditional investing, thus creating better financial inclusion for retail users. A prime example of this is enabling users to participate in initial sale offerings that typically may not be available to them because of the regulations in place preventing such. With the advent of crypto, it's clear to see how much more equitable and diverse offerings can be. There are now a variety of ways users can participate in sales, and a multitude of ways these sales can be carried out.
At Impossible Finance, we strive to provide the best mechanisms to create a level playing field for our retail users, whether it's through our KYC process ensuring our platform is always populated with real users, or the entry requirements to participate in our launchpad — we want the small fish to succeed too.
Unfortunately, this is not the case for many launchpads whose lottery/whitelist models may favor users with larger token holdings, making it difficult for the average user to gain an allocation.
This is why Impossible Finance has opted for a staking mechanism which distributes allocations more fairly — StakeWeight formula. Our StakeWeight formula determines your allocation in proportion to how much IDIA and how long you stake. That means the more IDIA and the longer you stake, the higher your allocation. By using this method, we ensure that fair and unbiased token distribution is at the core of every launch on Impossible.
By design, Impossible's smart contracts lets anyone gain an allocation for new project launches regardless of how small their staked amount of Impossible's launchpad token, IDIA, is. Furthermore, there is no minimum requirement for users to participate.
Security
With every new project launch, risks are involved. While Impossible prides itself on rigorous research, vetting and due diligence processes, unforeseen and external circumstances may at times negatively affect project performance and token price after launch, especially in a space as volatile as crypto.
It is therefore important for launchpads to implement safety and security measures to best protect user interests in anticipation of such events.
At Impossible, one way we do this is through our Buy-back Protection Program, an added security measure that protects users against potential downside risks from major price fluctuations.
The Buy-back Protection Program is a first-of-its-kind mechanism unseen on any other launchpad platform, allowing users to sell their tokens back to projects within a specific timeframe should token prices fall below a certain threshold from the original sale.  
This feature is made possible through our collaboration with OpenSwap (which happens to be our second IDO project). To-date, Impossible launchpad projects such as Aura Network, Ouro and Highstreet among others have participated in the program and pledged to buy-back project tokens.
This is a reflection of Impossible and our project teams' shared vision of user-centricity and dedication to security.
Like many other DeFi applications, launchpads are platforms that interact with user funds, whether it be through staking or lottery mechanism that requires users to lock in tokens. It is therefore vital to ensure that launchpad smart contracts are secure and defensible against any potential exploit that may result in a loss of user funds.
Impossible's smart contracts have been battle-tested and audited by industry-leading audit platforms like BlockSec to ensure they are free from vulnerabilities, thereby keeping user funds SAFU. In our commitment to security and decentralization, Impossible Finance has also developed a bug bounty program with Immunefi. By enlisting the help of the wider crypto community, Impossible can become an even stronger and more secure ecosystem for users and projects alike.
Project Quality
In the crypto space, new projects spring up on a daily basis. For even the advanced crypto investor, it is difficult to discern quality projects from those that are run-of-the-mill with no intrinsic value, or even worse, scam projects. Uncovering hidden gems takes experience, effort and a great deal of research.
Project due diligence and in-depth research is therefore a vital responsibility launchpads undertake in order to protect users from subpar projects. And while it might be difficult to replicate the success of unicorns like Axie Infinity, users can look at a launchpad's history of launches as an indicator on whether that launchpad is a good one. Some questions to think about when deciding on which launchpad to participate in can include:
What is the frequency of launches?
Are projects being launched profusely? This may signal that insufficient research is being invested for each new project launch. Users may be surprised to learn that Impossible has been live for over 1 year with 18 projects launched. This is because we want to make sure that only the best projects we feel are market ready are launched. This is only fair to the users who have placed their trust in us. However, this does not mean that projects who may not be launch-ready are turned away. What many users do not know about is Impossible's advisory arm that manages over 20+ projects, working on getting them launch ready.
2. How is the launchpad's historical launch performance? Does the launchpad have a reputation for launching quality projects?
One way to determine the project quality of launchpads is to look at past projects and observe how they have performed. Cryptorank is a great platform to assess the performance of various launchpads and projects.
3. How do launchpads bring added-value to new projects, if any?
Is the launchpad merely a platform that supports token sales, or are there added services provided that help projects improve and move closer towards launch? When there's skin-in-the-game, there is vested interest in the project's success.
Impossible adopts a "Business-to-Developer" (B2D) approach, standing uniquely at the intersection of an incubator — providing advisory services to projects — and a launchpad. We offer a full service feature set for both project teams and individual users, providing a one-stop solution for high quality projects to address their target markets.  
Strong Community
Projects rise and fall on the strength of their communities. As the backbone of any project, a strong community is one characterized by transparency, inclusivity, open collaboration and real users who truly believe in the project.
For launchpads, building trust in the community is of utmost importance. Impossible is here for the long-run which is why we continually strive to attract actual users, and not just opportunistic speculators to buy and dump. We are not here to merely sell tokens, but rather to place them into the hands of the earliest community supporters and real adopters who will use a project. We believe that user education is imperative to driving real user adoption. At Impossible, we've introduced a multitude of initiatives such as our Impossible Quest, Research Reports and Impossible Dataroom aimed at empowering users to navigate the crypto space.  
In addition to that, we also implemented our Impossible Feedback platform which aims to improve Impossible Finance's product with the help from our community. This brings a clear unity between the Impossible team and our community to allow continuous improvements to our product. After all, we highly value our Penguin community's opinion and at our very core, we are buidling for the users.
Lastly, we believe that communities must also be built on trust and close communication with the team. This is why Impossible is dedicated to engaging with our users — be it through our main Telegram channel or dedicated Impossible Friends channel for power users.
Conclusion
At Impossible, we firmly believe in providing accessibility, security, project quality and strong community. These key characteristics strongly position us as a reliable and beneficial launchpad, especially in wavering times.
While other launchpads may encompass one or two of such characteristics, these core tenets are what Impossible can confidently offer to our users as we strive to be a top-tier launchpad, furthering our vision in creating a fair and accessible digital financial system for everyone.
Let's buidl the Impossible together <3
---
About Impossible Finance
Impossible Finance is the go-to crypto investment platform that empowers you with high-quality, fair and accessible crypto opportunities. We simplify DeFi so you can enjoy fairer investing, cheaper trading and better yields through our accelerator, launchpad, and swap platform.
Website | Twitter | Discord | Telegram | Blog
Terms & Conditions
Risk Warning: Trading and/or generally investing in any cryptocurrency involve significant risks and can result in the complete loss of your capital. You should not invest more than you can afford to lose and you should ensure that you fully understand the risks involved. Before investing, please consider your level of experience, objectives, and risk tolerance, and seek independent financial and legal advice if necessary. It is your responsibility to ascertain whether you are permitted to use the services of Impossible Finance based on the legal and regulatory requirements of your country of residence and/or applicable jurisdiction(s).
The information provided on this website does not constitute investment advice, financial advice, trading advice, or any other sort of advice and you should not treat any of the website's content as such. Impossible Finance does not recommend that any cryptocurrency should be bought, sold, or held by you. Do conduct your own due diligence and consult your financial advisor before making any investment decisions.