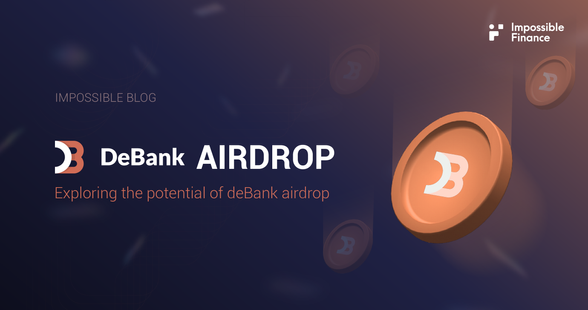 Exploring the DeBank Ecosystem & Preparing for Potential Airdrops
TLDR:
DeBank is the leading crypto wallet for portfolio tracking, raised US$25M in funding with the backing of leading investors such as Coinbase, Sequoia and others. The platform includes a Web3 messenger with the ability to manage assets, and a built-in DEX aggregator
At this time of writing, DeBank has not confirmed their token release, but some token hints are mentioned on github.
However, you can increase your chances of receiving a DBNK token airdrop by interacting with the protocol and its ecosystem projects.
What is DeBank?
DeBank is a DeFi portfolio tracking firm that allows users to navigate and manage DeFi assets. It is an all-in-one crypto wallet that helps users to track DeFi data and decentralized applications, find DeFi projects, manage assets, compare interest rates, and analyze DeFi risks. Moreover, the platform enables users to conduct token swaps and discover investment opportunities through real-time data.

DeBank currently supports nearly 1000 DeFi protocols across over 15 blockchains on its platform, including Ethereum, Binance Smart Chain, and Avalanche. It essentially helps users track their DeFi investments, such as how much they have deposited in various DeFi protocols and how much they have earned in yields.
As a reminder: This article will cover ways to increase your likelihood of qualifying for an airdrop during a token launch. It's important to keep in mind that the DeBank team has not confirmed a token release, and even if they do, there's a possibility that they won't distribute tokens through an airdrop.
How to enhance your eligibility for the DeBank Airdrop?
One way to increase your chances of qualifying for a potential DBNK airdrop is to actively engage with the project for an extended period of time, and interact with their ecosystem.
So let's try to mine DeBank airdrop together?
<! -- toggle --> <! -- toggle --> <! -- toggle -->
Getting Started 🌱
Head to debank.com
Click "Log in via web3 wallet" in the upper-right corner
Follow the instructions to connect & verify your wallet
📌 Pro Tip: Make sure your web3 wallet is secure. This will be your key to everything DeBank offers.
<! -- toggle --> <! -- toggle --> <! -- toggle -->
Referral System 👫
After logging in, visit your profile
Locate the "Share" button
Copy your unique referral link and start inviting friends
💡 Why it matters: More referrals can lead to higher rankings and rewards.
<! -- toggle --> <! -- toggle --> <! -- toggle -->
Content Is King 📝
Click on the 'Stream' tab
Create posts, repost, and engage with the community
💡 Why it matters: Active social engagement may position you for a potential token airdrop and boosts your DeBank profile's visibility.
<! -- toggle --> <! -- toggle --> <! -- toggle -->
Set Up Rabby Wallet 🐰
Navigate to rabby.io
Download Rabby Wallet
Create a new wallet or import from Metamask
💡 Convenience Note: Feel free to use your existing Metamask wallet for a hassle-free transition.
<! -- toggle --> <! -- toggle --> <! -- toggle -->
Testnet and Free Gas ⛽
In Rabby Wallet, click "More" then "Request DeBank Testnet Gas Token."
💡 Note: Only Rabby badge holders can request free gas. Mint the "Rabby Valued User" badge if needed.
<! -- toggle --> <! -- toggle --> <! -- toggle -->
The Swiss Army Knife of Crypto 🛠
DM users by paying a small fee or send message to us for free Impossible's DeBank
Engage in raffles
Post and repost, write threads, and press the trust button on posts
📝 Note: Utilizing the full range of features can significantly increase your visibility and engagement within the DeBank community.
<! -- toggle --> <! -- toggle --> <! -- toggle -->
*Optional: Identity Matters: Web3 ID & Badges 🛡
Go to 'Mint your Web3 ID!'
Pay $96 to mint (that's why it is an optional step)
Show off your unique Web3 identity and mint exclusive badges
💡 Insight: With only 38,428 Web3 ID holders, securing your unique ID now could give you a competitive edge in the DeBank ecosystem. It's an optional step due to the $96 minting fee, but highly beneficial for standing out. Please, make your own decision, all in that article is not financial advice.
<! -- toggle --> <! -- toggle --> <! -- toggle -->
Be a DeBank Citizen: Voting 🗳
Navigate to the 'Proposal' tab
Cast votes or create new proposals
💡 Why it matters: Active governance participation is highly valued in Web3 platforms.
<! -- toggle --> <! -- toggle --> <! -- toggle -->
Bundles: One View for All Your Assets 🎒
Go to the 'Bundles' section
Add multiple wallet addresses to monitor all assets in one place
💡 Pro Tip: Bundles offer a streamlined way to manage your diverse assets. Ideal for those who operate across multiple wallets or blockchains, and want an aggregated view without the hassle.
<! -- toggle --> <! -- toggle --> <! -- toggle -->
Connect All the Dots 🌐
Link your Twitter and Email accounts to your DeBank profile for a more holistic online presence in the 'settings' tab
<! -- toggle --> <! -- toggle --> <! -- toggle -->
About Impossible Finance
Impossible Finance is the go-to crypto investment platform that empowers you with high-quality, fair and accessible crypto opportunities. We simplify DeFi so you can enjoy fairer investing, cheaper trading and better yields through our accelerator, launchpad, and swap platform.
Website | Twitter | Discord | Telegram | Blog | DeBank
<! -- toggle --> <! -- toggle --> <! -- toggle -->
Terms & Conditions:
Impossible reserves the right in its sole discretion to amend or change or cancel this announcement at any time and for any reasons without prior notice.
<! -- toggle --> <! -- toggle --> <! -- toggle -->