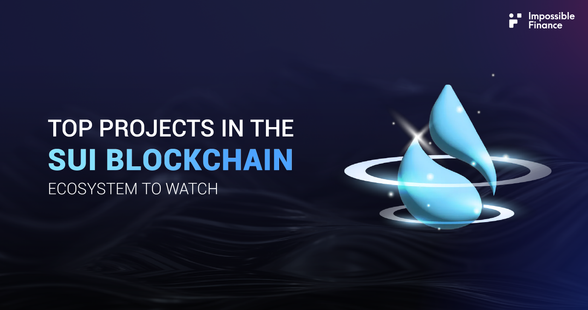 Top Projects in the Sui Blockchain Ecosystem to Watch
While Sui just launched on Mainnet earlier this month, hundreds of projects have already begun building on the Layer 1 network. We share some of the top projects we think have amazing potential to go far in the Sui blockchain ecosystem.
The highly-anticipated Sui Network — developed by former Meta engineers — launched on May 3rd. Developed by Mysten Labs and founded by those behind Move language, Sui raised US$300 million in its Series B round and gained significant traction after Tron founder Justin Sun made a $56 million TrueUSD transfer to Binance LaunchPool, likely in anticipation of the SUI token launch.
At the time of writing, SUI is trading at US$1.03, as per Coingecko, putting its market capitalization at around US$543 million. SUI is used for transaction fees and governance. The total supply of SUI tokens is 10 billion, and the initial circulating supply is 528,273,717, representing 5.28% of the total token supply.
What exactly is Sui?
Sui is a Layer-1 blockchain network that promises high transaction throughputs. Of its competitors, Sui has been compared most extensively to Layer 1s Aptos and even dubbed as the latest 'Solana killer'. According to official Sui documentation, Sui is "reshaping the industry by achieving unprecedented speed and scalability" through its innovative parallel processing of transactions that gives the Layer 1 chain a significant edge over its competitors.
There are a few distinguishing features about Sui that sets it apart in terms of blockchain technology.
Object-centric data model
Sui adopts the object-centric data model to measure blockchain state. It is a hybrid model that combines the account method used by most smart contract platforms (i.e. Ethereum and Solana) with unspent transaction outputs used by Bitcoin to measure blockchain state.
By combining both models, Sui stores historical data in objects with globally unique IDs. This allows Sui to parallelize object interactions at scale, where validators are able to process transactions in parallel on separate machines when multiple transactions are submitted, reducing latency and giving rise to unprecedented performance.
Sui Move with safer programming experience
Recognising how Solidity and the ERC-20 token standard catalyzed blockchain communication and interoperability, the Move language was created with these foundational principles in mind. Mysten Labs modified Move soon after, calling it Sui Move, to integrate it with its object-centric data model. The modification includes bytecode verification which ensures that objects cannot be created, copied, or accidentally destroyed by code from outside its defining module, thereby creating a much safer and secure programming environment on Sui.
Consensus DAG which allows for parallel computation for transactions
Unlike most other blockchains, Sui does not validate transactions by batching them into blocks. Instead, transactions are grouped by objects and validated individually. This means that validators can process different objects' transactions in parallel, resulting in parallel computation leading to more efficient execution of transactions and scalability.
In summary, Sui aims to solve long standing challenges faced in the DeFi landscape by reducing latency for smart contract deployment leading to faster transactions and keeping fees and transaction costs low even when demand spikes, a common pain point for Layer 1s.
Projects to watch on the Sui blockchain network
While Sui just launched on Mainnet earlier this month, hundreds of projects have already begun building on the Layer 1 network.
As a launchpad and venture builder, Impossible Finance diligently keeps a finger on the pulse of the latest developments in the crypto space and eagerly monitors the emergence of innovative projects within new ecosystems. Today, we share some of the top projects we think have amazing potential to go far in the Sui blockchain ecosystem.
Cetus is the pioneer DEX and concentrated liquidity protocol on Sui. With its Concentrated Liquidity Market Making (CLMM) AMM, Cetus focuses on delivering the best trading experience and superior liquidity efficiency to DeFi users. By building its concentrated liquidity protocol and a series of affiliate interoperable functional modules, Cetus aims to optimize liquidity and provide an exceptional trading environment.
Status: Live on Mainnet
Why you should watch it:
Leading DEX and liquidity protocol on Sui by TVL at US$12.43 million
Oversubscribed IDO after Sui mainnet launch, a strong signal of market leadership and user demand
Greater capital efficiency via CLMM model
US$10m TVL within 24 hours of launch
Listing and investment by OKX Ventures. Other prominent investors include Comma3 Ventures, NGC Ventures, Animoca Ventures, IDG Capital, Leland Ventures, AC Capital, Adaverse and Coin98 Ventures

Turbos is a non-custodial and hyper-efficient DEX that has gained significant traction, ranking second by Total Value Locked (TVL) after Cetus. With its Concentrated Liquidity Market Making (CLMM) AMM and perpetual trading capabilities, Turbos offers users a seamless and efficient decentralized trading experience. Leveraging its impressive features, Turbos aims to further enhance liquidity and solidify its position as a leading DEX in the market.
Status: Live on Mainnet
Why you should watch it:
CLMM spot DEX backed by Jump Crypto and Mysten Labs
Smart routing for more efficient trades
The first perpetuals protocol and zero-slippage DEX on Sui
Community-driven project with 85% of Turbos income allocated to token holders and liquidity providers
Releap introduces a decentralized social graph that revolutionizes how creators interact with their communities. By allowing creators to publish their content as NFTs on-chain, Releap enables discovery, enjoyment, and trading of these unique assets. With a completely composable and decentralized social network, Releap empowers creators, providing them with ownership over their relationships with their communities. Users can create profiles, interact with each other, compose content as NFTs, and leave comments, all within the on-chain ecosystem.
Status: Live on Mainnet
Why you should watch it:
SocialFi is a nascent market with huge potential to grow
Innovative new features like on-chain video uploading and streaming
Fully composable, allowing anyone to build dApps on the platform
Empowers ownership for content creators
Typus Finance brings simplicity to decision-making for retail users in the DeFi space through its modified Dutch auction mechanism. Typus Finance establishes an options marketplace for longtail assets, integrating derivatives, swaps, and lending protocols. With on-chain options strategies and covered calls, Typus Finance provides a comprehensive real yield infrastructure, enabling users to navigate the complex DeFi landscape with ease.
Status: Live on Mainnet
Why you should watch it:
Huge potential to grow due to few options protocols in the crypto market
Optimises crypto returns on SUI token
Typus simplifies the complexities of options with their options vaults, where users can earn yield in just one click
Mysten Labs as strategic partners
Kriya emerges as the first derivatives exchange on Sui, encompassing KriyaSwap, a spot AMM with a native bridge, and Kriya DEX, an orderbook-based perpetual DEX with 20x leverage. Kriya empowers traders to engage in perp trading with high leverage, cross-margin across assets, and hedge via options. With its comprehensive suite of derivatives trading capabilities, Kriya opens up new avenues for DeFi participants to explore and maximize their trading strategies.
Status: Live on Mainnet
Why you should watch it:
Orderbook DEX developing in the Sui ecosystem
Full-featured derivatives exchange comprising multi-legged perpetual spreads and one-click position reverse
Low latency central limit orderbook (CLOB) that harnesses Move's parallel compute capabilities
Provides SDKs for algotrading
Exciting new developments in the roadmap including: fiat on-ramp, single-sided liquidity and more Sui-native coins
Seamless bridging
Allow for more advanced and sophisticated trades in the Sui ecosystem
Polymedia sets out to create original and fully on-chain applications on Sui. Ranging from standalone dApps to infrastructure used in other projects, Polymedia's goal is to foster innovation and drive the expansion of the DeFi ecosystem. By building a diverse range of on-chain applications, Polymedia contributes to the growth and development of decentralized finance.
Status: Live on Mainnet
Why you should watch it:
Supports the growth of the Sui network as a whole through dApps that can be utilised and integrated across various Sui network protocols
Community-driven
Currently 4 projects are live with more in the works
Polymedia Profile: A fully on-chain profile/identity system. It is used in all Polymedia apps, and can be easily integrated into 3rd party projects with our TypeScript SDK. Over 12,000 Polymedia profiles have been created on Testnet.
Polymedia Chat: Web3 native communication system that can be integrated into dApps and connect to the Sui network without relying on Web2 platforms
Got Beef: Escrow system coupled with voting mechanism that makes bets safe and transparent
Journey to Mount Sogol: A point-and-click adventure mini game built to introduce Polymedia Profile
Bucket Protocol is a Collateralized Debt Position (CDP) protocol within the Sui ecosystem, supporting multiple assets for collateralization, including $SUI, $BTC, and $ETH, while extending stablecoin loans in $BUCK at a zero-interest rate. Its real-time liquidation mechanism ensures both security and capital efficiency, and the inbuilt flash loan services facilitate the price stability of the stablecoin $BUCK. Through a diversified yield pool and SDK, Bucket Protocol exhibits exceptional composability and scalability. Leveraging its innovation and stability, Bucket Protocol aspires to be the underlying DeFi engine within the Sui ecosystem.
Status: Live on Testnet
Why you should watch it:
2nd place audience favorite for Defi & Payments category at the Sui Builder House Hong Kong
With 0% interest rates, borrowers do not need to worry about constantly accruing debt
Native stablecoin, BUCK, on Sui and emphasis on supporting crypto-asset-backed stablecoins as an alternative to inherently risky fiat-backed stablecoins. This allows greater utility for the Sui token while also garnering greater support from the Sui Foundation
Scallop is a next-generation money market that emphasizes institutional-grade quality, enhanced composability, and robust security. It is dedicated to building a dynamic money market that offers high-interest lending, low-fee borrowing, AMM, and asset management tool on a unified platform and offering an SDK for professional traders.
Status: Live on Testnet
Why you should watch it:
Key features that set it apart from other DeFi protocols:
Professional trader enabling
Optimized Compound V3 model
Robust security
Flash loans
Swap and bridge
Mixed asset and isolated asset pools
High-interest lending and low-fee borrowing
First DeFi protocol to receive an official grant from the Sui Foundation
Cross-chain interoperable through Wormhole bridge
SupraOracles is a cross-chain blockchain platform that aims to connect traditional capital markets with the Web3 environment. Their suite of solutions includes a revolutionary oracle toolset that allows the developer community to easily construct, deploy and manage data applications with superior performance, robustness and agility.
Status: Live on Testnet
Why you should watch it:
Supra has a PhD-driven research team, reflecting their commitment to deep research and a rigorous academic process
Received numerous accolades from Web3 incubators like Mastercard's Start Path program, Berkeley Blockchain Xcelerator and Silicon Valley's Plug and Play
Over 260 partnerships spanning sectors like DeFi, GameFi, payments, Staking, Web3, Metaverse, AI and more
Supports Solidity and Move-based networks
Multi-chain: Live on Ethreum, Polygon, Aptos and over 30 other testnet networks
Conclusion
While still at an early stage, Sui has the potential to become a significant player in the blockchain industry, thanks to its high performance and scalability. With much more developments in store, Sui, along with the projects and dApps being built on the network are definitely one to watch.
---
About Impossible Finance
Impossible Finance is the go-to crypto investment platform that empowers you with high-quality, fair and accessible crypto opportunities. We simplify DeFi so you can enjoy fairer investing, cheaper trading and better yields through our accelerator, launchpad, and swap platform.
Website | Twitter | Discord | Telegram | Blog
Terms & Conditions
The information provided on this website does not constitute investment advice, financial advice, trading advice, or any other sort of advice and you should not treat any of the website's content as such. Impossible Finance does not recommend that any cryptocurrency should be bought, sold, or held by you. Do conduct your own due diligence and consult your financial advisor before making any investment decisions.
Risk Warning: Trading and/or generally investing in any cryptocurrency involve significant risks and can result in the complete loss of your capital. You should not invest more than you can afford to lose and you should ensure that you fully understand the risks involved. Before investing, please consider your level of experience, objectives, and risk tolerance, and seek independent financial and legal advice if necessary. It is your responsibility to ascertain whether you are permitted to use the services of Impossible Finance based on the legal and regulatory requirements of your country of residence and/or applicable jurisdiction(s).
Full disclaimers: Please access this link for the legal notices relating to this document, its content, and the relevant risks.