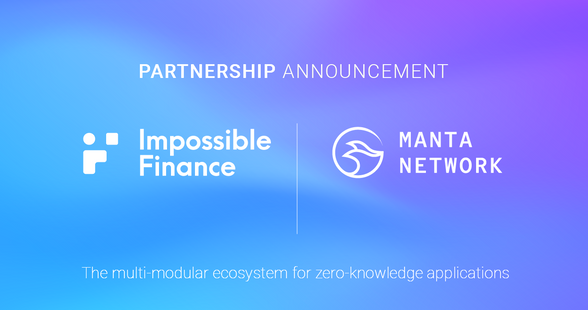 Impossible Finance Partners with Manta Network
Impossible Finance is excited to partner up with Manta Network — a multi-modular ecosystem for zero-knowledge (ZK) applications that enables fully private transactions on DeFi platforms.
Hey Impossible fam!
In the ever-evolving landscape of blockchain technology and decentralized finance, innovation continues to drive the industry forward. Today, we are excited to announce our partnership with Manta Network, a groundbreaking layer 1 blockchain that is revolutionizing privacy preservation within the crypto space.
Through this partnership, Impossible Finance will support Manta Network as an incubation partner to help accelerate the growth of the protocol.
What is Manta Network
Manta Network is a multi-modular ecosystem for zero-knowledge (ZK) applications that enables fully private transactions on DeFi platforms, maintaining the fine balance act of user confidentiality and blockchain transparency. Manta Network comprises Manta Atlantic, a ZK-substrate framework layer 1 solution offering compliant on-chain privacy solutions, and Manta Pacific, the first EVM-native modular execution layer offering a scalable, secure, and user-friendly platform for ZK application development and deployment.
Key Highlights of Manta Network
Ease of on-composability and integration into Web2 applications
Buidlers can easily and flexibly deploy applications on Manta Network to leverage the benefits of ZK technology
Accessible to developers who know Solidity or Rust

Most recently, P0x Labs — the creators and team behind Manta Network — have made waves for reaching a $500 million valuation following a $25 million Series A funding round. Notable investors include Polychain Capital and Qiming Venture Partners. Its founding team come from various prestigious institutions, including Harvard, MIT, and Algorand, beginning their research on Zero Knowledge Proof in 2019 during a cross-border payment research project under the MIT Digital Currency Initiative with the Monetary Authority of Singapore.
Rising Adoption
Since Manta Network's launch, the platform has already minted over 300,000 "soulbound" tokens — a non-transferrable NFT token first conceptualized by Ethereum's Vitalik Buterin — that allows one to prove ownership over a unique digital asset. These "soulbound" tokens on Manta are bound to a specific blockchain address, thereby enhancing the degree of security.
---
About Manta Network
Manta Network is the modular ecosystem for zero-knowledge (ZK) applications. Manta Atlantic, the fastest ZK L1 chain, brings programmable privacy to web3 through compliant on-chain privacy and identity. Manta Pacific, the unique L2 ecosystem for EVM-native ZK applications, provides a scalable and inexpensive gas-fee environment for ZK applications to deploy simply using Solidity. Together, Manta Atlantic and Manta Pacific deliver an unparalleled experience for the next generation of web3 application development and adoption with the applied usage of zero-knowledge cryptography.

About Impossible Finance
Impossible Finance is the go-to crypto investment platform that empowers you with high-quality, fair and accessible crypto opportunities. We simplify DeFi so you can enjoy fairer investing, cheaper trading and better yields through our accelerator, launchpad, and swap platform.
Website | Twitter | Discord | Telegram | Blog
Terms & Conditions
Risk Warning: Trading and/or generally investing in any cryptocurrency involve significant risks and can result in the complete loss of your capital. You should not invest more than you can afford to lose and you should ensure that you fully understand the risks involved. Before investing, please consider your level of experience, objectives, and risk tolerance, and seek independent financial and legal advice if necessary. It is your responsibility to ascertain whether you are permitted to use the services of Impossible Finance based on the legal and regulatory requirements of your country of residence and/or applicable jurisdiction(s).
The information provided on this website does not constitute investment advice, financial advice, trading advice, or any other sort of advice and you should not treat any of the website's content as such. Impossible Finance does not recommend that any cryptocurrency should be bought, sold, or held by you. Do conduct your own due diligence and consult your financial advisor before making any investment decisions.