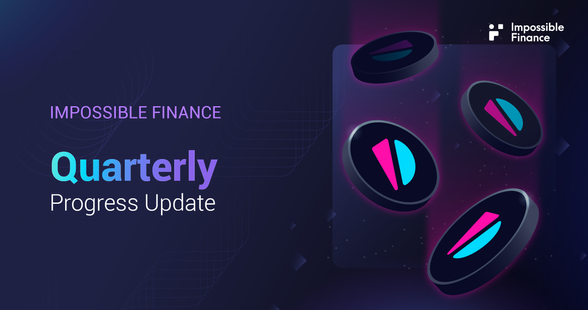 Impossible Finance Quarterly Progress Update
We want to take this opportunity to celebrate the remarkable progress in line with our seed round token unlock that has propelled Impossible Finance forward this past quarter.
Attention, Impossible community!
We want to take this opportunity to celebrate the remarkable progress in line with our seed round token unlock that has propelled Impossible Finance forward this past quarter.
Q1 Performance
IDO Launches
Pine Protocol (IDO 16) - PINE maintained price performance above IDO price for several weeks after launch. A 75% Buyback Protection was secured for users.
Arken Finance (IDO 17) - A combination of technical and communication errors during the claiming period led to a bad user experience and subsequent community backslash. Since then, Arken Finance, together with partners Impossible Finance and Coin98, have been working to resolve user claim issues and deliver on their roadmap (More context here: Arken Finance Post Mortem). Impossible Finance's users were protected by the activation of a 90% Buyback Protection program, resulting in over $700,000 reimbursed to our users. Liquidity improvement plan for ARKEN has been successfully executed reaching approx. 350,000 of liquidity in Arbitrum network.
Humanode (IDO 18) - Price action was initially favourable, HMND tokens are still not fully released, 50% of the purchased supply to be released at the end of May. A 75% Buyback Protection was secured for users.
IDIA Utility & Liquidity Improvements
This quarter saw numerous decentralized exchange (DEX) collaborations, including the execution of our partnership with Chronos Finance, controlling 0.5% of initial veCHR supply. Our partnership with Thena Finance was also executed, sustained increasing our locked positions of veTHE supply. Between Protocol-owned-liquidity and community participation we reached $870,000 of on-chain liquidity available for IDIA token, with a peak reaching $1.2M during March.
Thena Finance Partnership
Through our strategic partnership with Thena Finance, a prominent liquidity layer and DEX on the BNB Chain, Impossible has successfully deployed liquidity pools on ThenaFi.
This collaboration provides a deeper liquidity for IDIA tokens and incredible yields for our token holders. Additionally, we rewarded around 400,000 THE and veTHE tokens airdrop for IDIA power-users.
Chronos Partnership
In the previous month, we announced our latest partnership with Chronos, a liquidity layer and AMM on Arbitrum. This partnership has not only solidified Impossible's position within the Arbitrum ecosystem, but also enabled IDIA holders to receive incentives when they provide liquidity on Chronos. Moreover, we manage to secure around 120,000 veCHR tokens airdrop for the Impossible Finance's community and power users.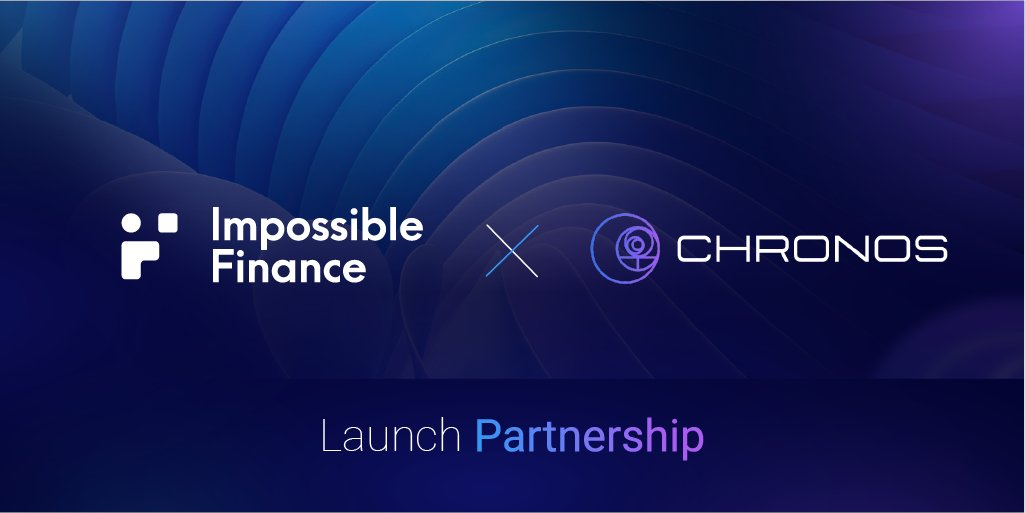 Arbitrum Integration
Impossible has also expanded our launchpad contracts into Arbitrum, the IF launchpad is now available for staking / purchase / claiming in the Arbitrum network, the leading L2 scaling solution for Ethereum. IDO Arken Finance is already executed on Arbitrum.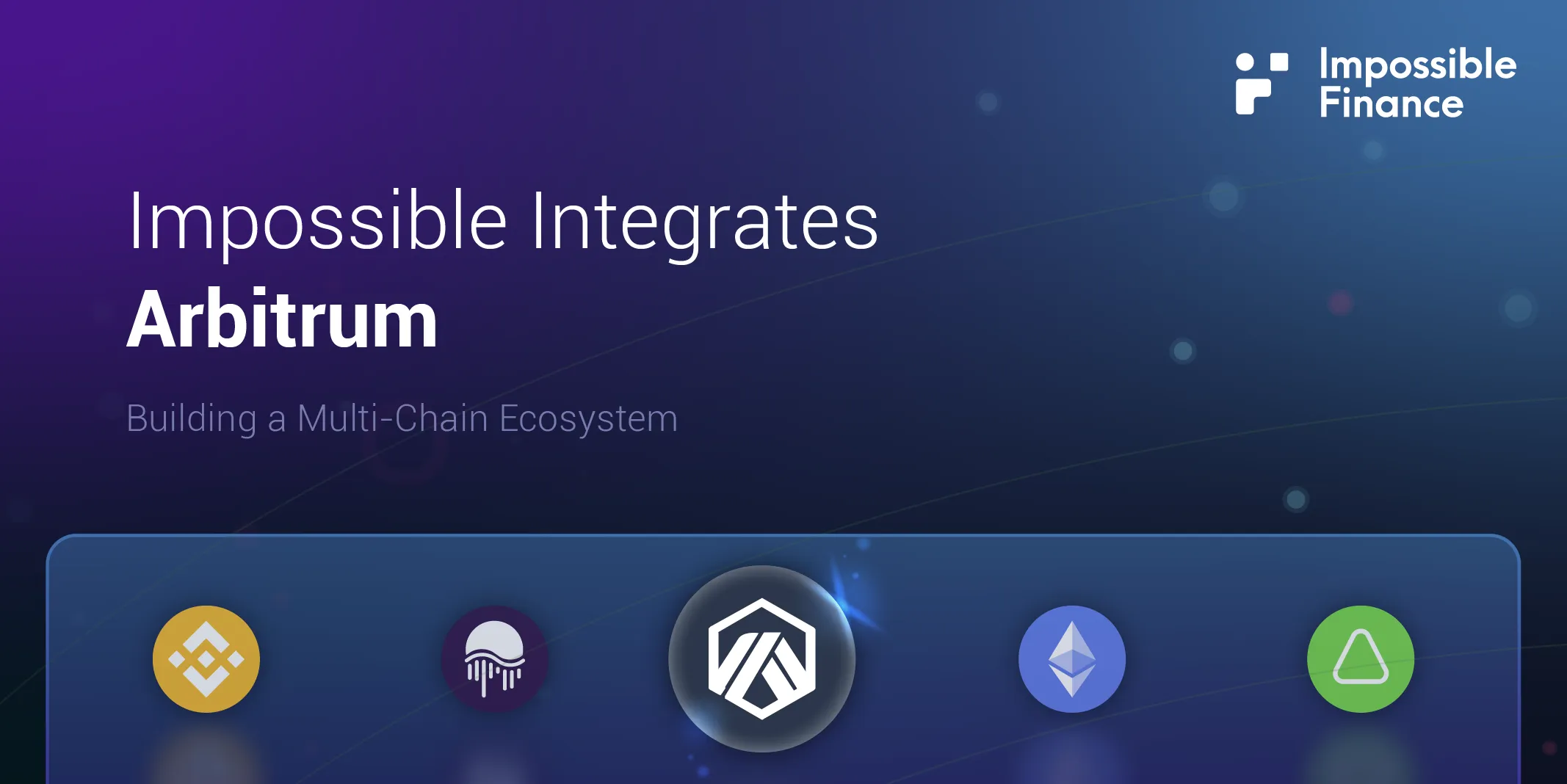 Coin98 Partnership
To drive greater user adoption on Impossible Launchpad, we have partnered with Coin98 to allow C98 staking on the Impossible launchpad for Arken and Humanode allocations. This expanded Impossible's presence in South East Asia, while still keeping majority of allocation within the IF community.
With that, Humanode IDO obtained $232,000 worth of C98 tokens committed in staked capital, while Arken Finance IDO garnered $709,000 worth of C98 tokens.
Expanded Data Research
We have expanded our data research dashboards on platforms such as Dune, Flipside and Datalab, providing valuable insights to our users, prominent analysts & NFT projects. Our Dune Data Impossible Finance Team dashboard is now ranked Top #4 starred dashboard, and has achieved the remarkable feat of over 2,100 Stars.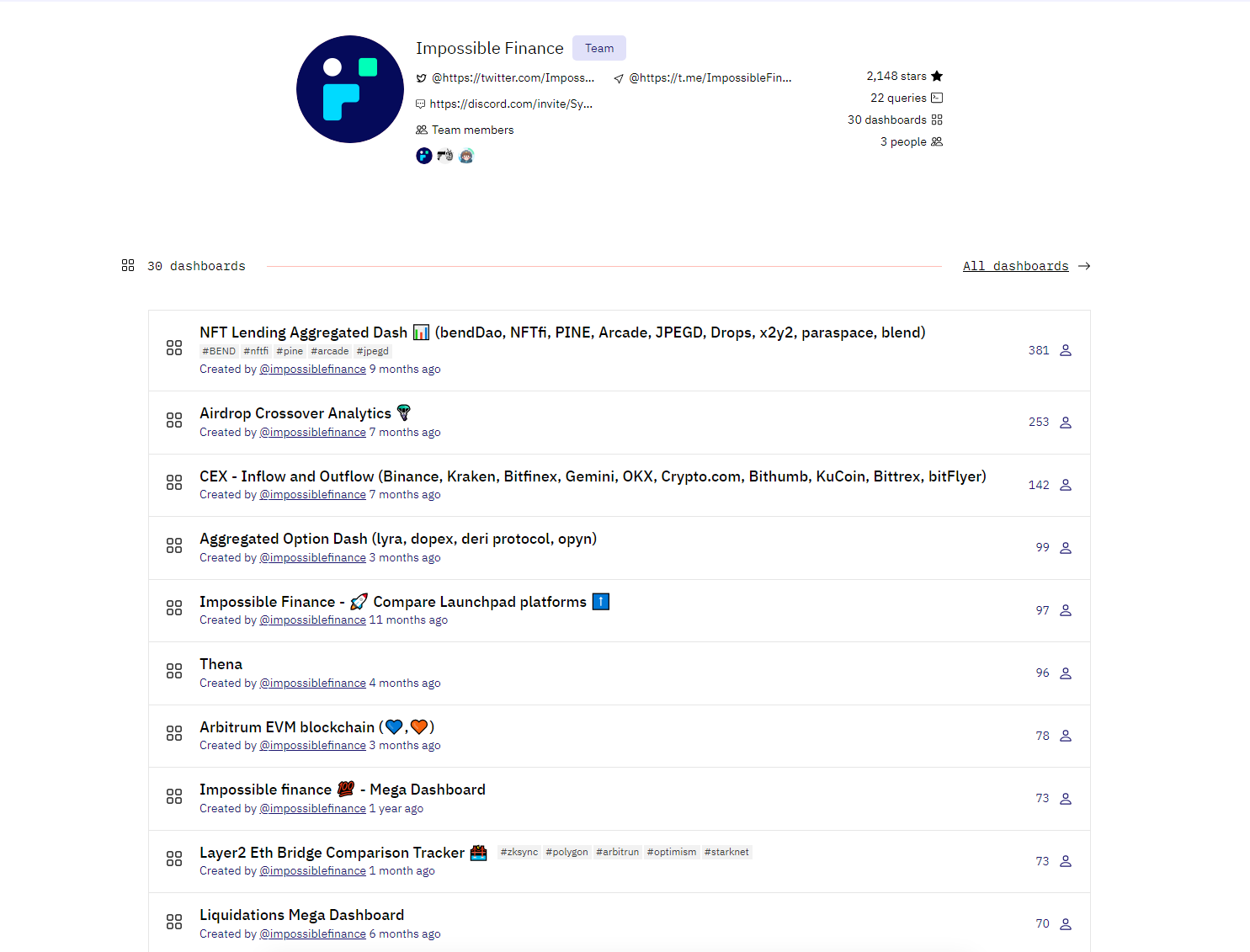 Dedication to Web3 Project Incubation & Advisory
We have launched a project-facing landing page for Impossible Advisory submissions for Venture Build and Launchpad. It showcased our commitment to finding promising projects and providing a comprehensive overview of our advisory services. This update for advisory led to an average of 350% increase in incubation applications monthly.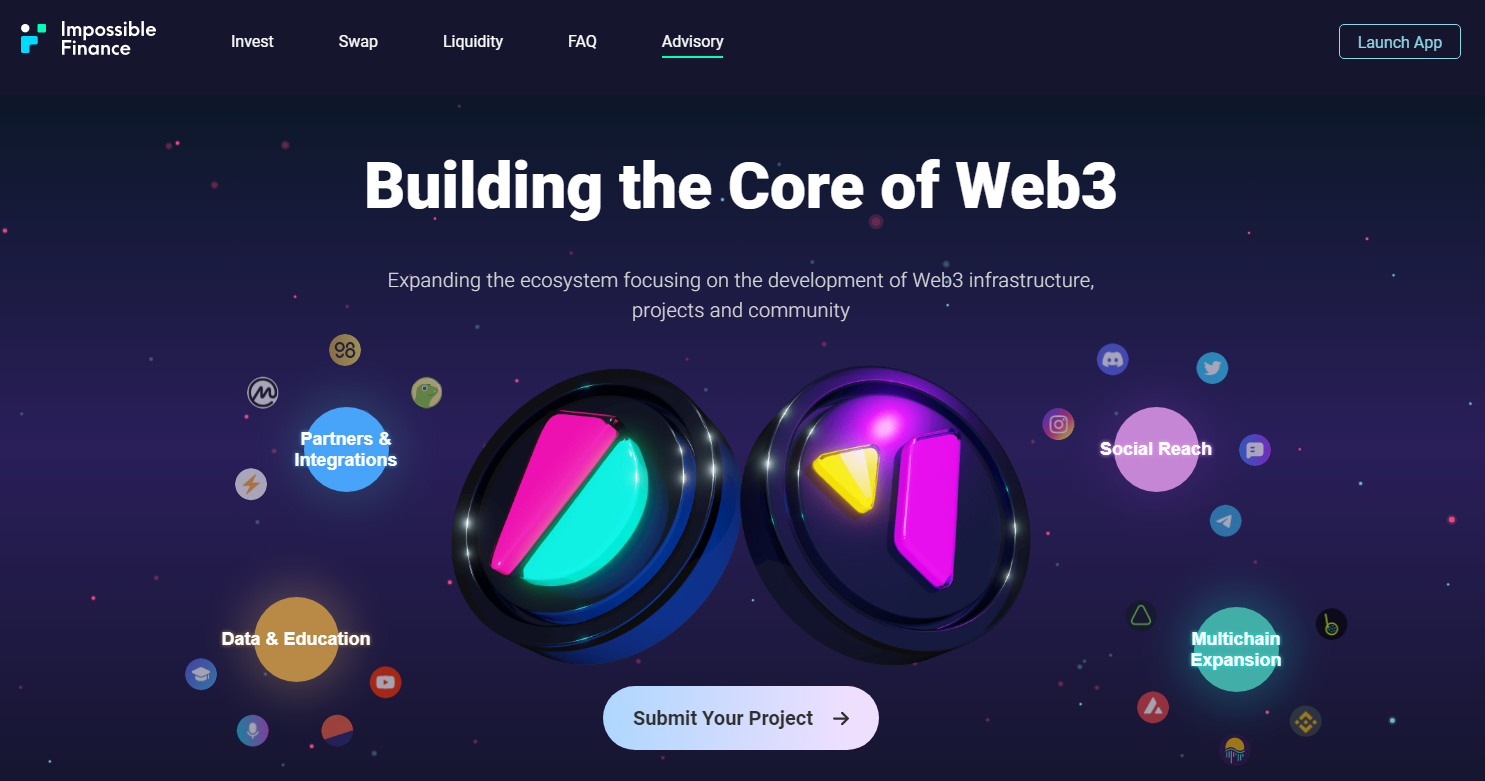 Events, Hackathons, and Meet-ups
We have actively participated in various industry events, hackathons, and meet-ups, constantly networking and seeking new collaborations. Notably, our presence was felt in Taiwan and Kuala Lumpur, fostering relationships with promising projects.
Dedicated Impossible Blog
We have officially migrated from our old Medium blog and have established a dedicated Impossible Blog, serving as a hub for insightful articles, project updates, and educational resources to empower our community.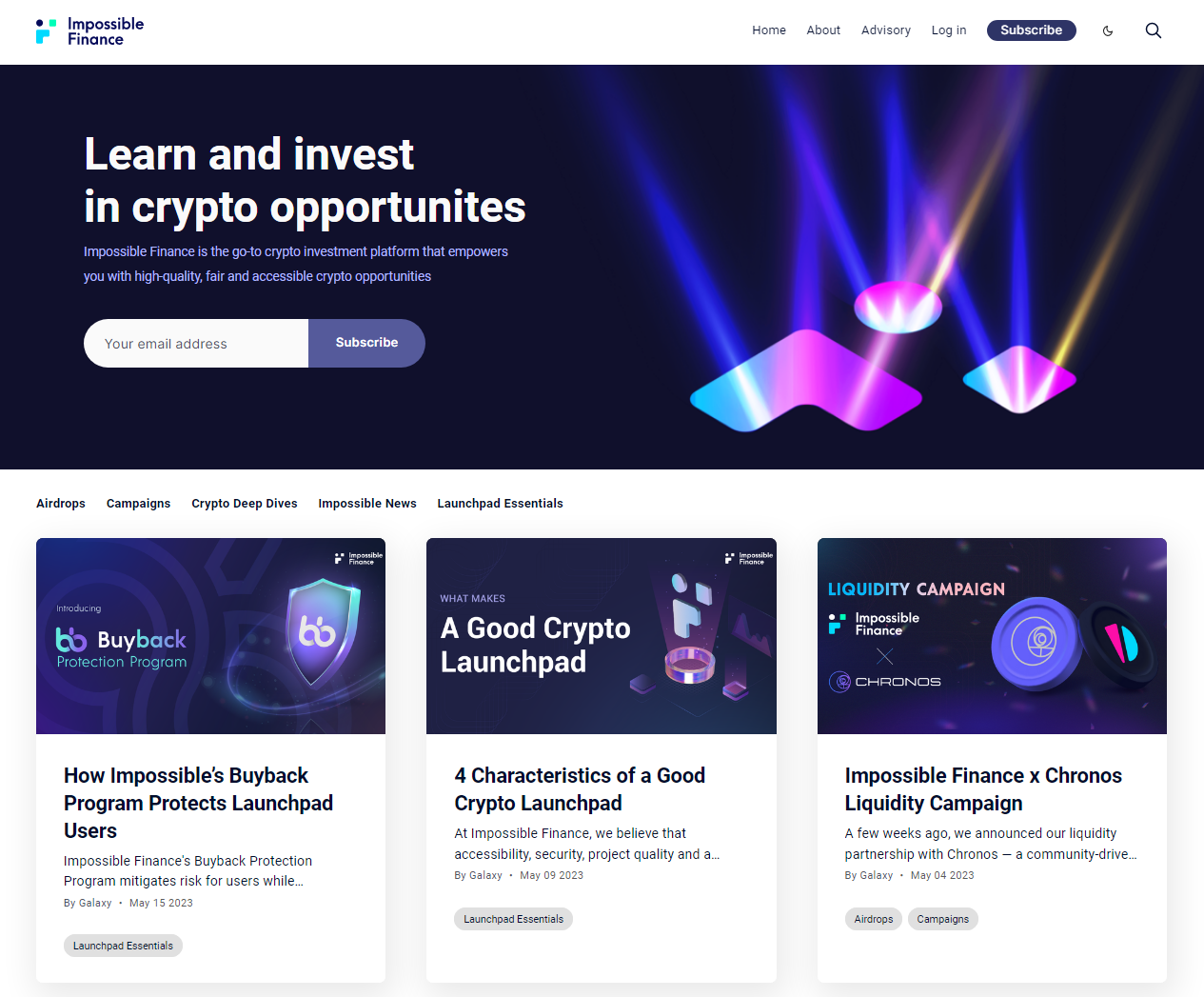 Pipeline & Roadmap
We've heard the community and understand your concerns! Going forward, we are focused on improving our launchpad purchasing processes, buyback programs and user protection measures. IDIA utility and liquidity will also be a priority to reduce the volatility risk exposure for launchpad users. We will also be expanding into new EVM chains (details to be announced) and improving on-boarding flexibility through adding Binance Account Bound Token (BABT) to our KYC channels.
Thank You!
We are excited about the future of Impossible Finance and the incredible opportunities that lie ahead. Thank you for being an integral part of our journey as we continue to redefine decentralized finance. Please continue to let us know what improvements and additional features you would like to see for Impossible! You can submit your feedback on our feedback platform.
---
About Impossible Finance
Impossible Finance is the go-to crypto investment platform that empowers you with high-quality, fair and accessible crypto opportunities. We simplify DeFi so you can enjoy fairer investing, cheaper trading and better yields through our accelerator, launchpad, and swap platform.
Website | Twitter | Discord | Telegram | Blog
Terms & Conditions
The information provided on this website does not constitute investment advice, financial advice, trading advice, or any other sort of advice and you should not treat any of the website's content as such. Impossible Finance does not recommend that any cryptocurrency should be bought, sold, or held by you. Do conduct your own due diligence and consult your financial advisor before making any investment decisions.
Risk Warning: Trading and/or generally investing in any cryptocurrency involve significant risks and can result in the complete loss of your capital. You should not invest more than you can afford to lose and you should ensure that you fully understand the risks involved. Before investing, please consider your level of experience, objectives, and risk tolerance, and seek independent financial and legal advice if necessary. It is your responsibility to ascertain whether you are permitted to use the services of Impossible Finance based on the legal and regulatory requirements of your country of residence and/or applicable jurisdiction(s).
Full disclaimers: Please access this link for the legal notices relating to this document, its content, and the relevant risks.