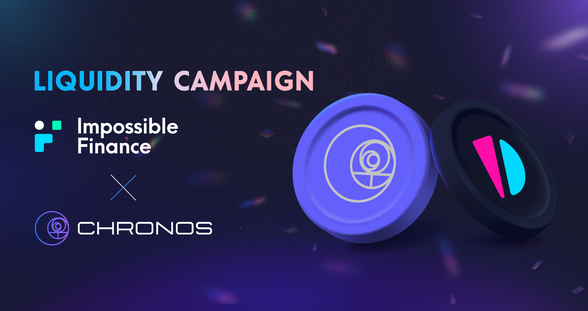 Impossible Finance x Chronos Liquidity Campaign
A few weeks ago, we announced our liquidity partnership with Chronos — a community-driven liquidity layer and AMM on Arbitrum. We are thrilled to share that the Chronos platform is now live!
A few weeks ago, we announced our liquidity partnership with Chronos — a community-driven liquidity layer and AMM on Arbitrum. We are thrilled to share that the Chronos platform is now live!
About the Impossible Finance x Chronos Partnership
This partnership will serve to fuel Impossible's growth in the Arbitrum ecosystem (our most recent chain integration) by utilising Chronos to establish deeper liquidity for IDIA tokens on Arbitrum. As IDIA becomes more readily available on DEXs across Arbitrum, token discoverability and accessibility will be enhanced, driving greater value for IDIA holders and the Impossible ecosystem as a whole.
Inspired by the likes of Solidly, Velodrome, and Thena, Chronos is proving itself to be a reckoning force on Arbitrum, already raising US$3 million in their public sale and inking partnerships with projects like Frax Finance, GMD Protocol and Granary Finance. By working closely together with Chronos, Impossible aims to strengthen its position as a leading decentralized launchpad in the Arbitrum network, and eventually, the entire DeFi space.
Impossible will also collaborate closely with Chronos for new liquidity opportunities & incentives, while also introducing new partner projects to the project. Additionally, Impossible will provide Protocol-owned-liquidity (POL) and incentives that will help feed liquidity flywheel at Chronos and allow buyers to access IDIA token with lower price impact.
Liquidity Campaign for the Impossible Community
As with all partnerships, we always seek to place the interest of our Impossible community first. We are thrilled to announce that IDIA holders can expect liquidity and voting incentives through this new partnership!
Liquidity Incentives
As part of our new partnership with Chronos, IDIA holders who provide liquidity to the IDIA pools on Chronos (IDIA-USDC and IDIA-ETH) will be able to receive rewards in the form of CHR emissions.
Liquidity pools on Chronos are live with the first CHR emissions beginning on 04/05/2023.
More details about Chronos' liquidity campaign and CHR emissions can be found here.
Additionally, veCHR holders (Chronos' non-fungible governance token) that vote for our IDIA liquidity pools will be able to receive voting incentives provided by Impossible Finance in addition to rewards based on trading fees.
Impossible Community veCHR Airdrop
As Chronos launch partners, our Impossible community were also allocated a veCHR token airdrop to celebrate the launch.
Over 150+ of Impossible's power users as well as our Impossibulls are eligible for the veCHR airdrop. In addition, we held an airdrop campaign for the Impossible Community for a chance to win veCHR by completing the campaign tasks on QuestN.
Check if you are a winner here.
Claiming for the veCHR Airdrop can be done through the Chronos website, and veCHR tokens will be locked for 2 years.
💡
Any veCHR Airdrop tokens not claimed by 11 May will be burned forever. So be sure to claim your veCHR Airdrop tokens if you are eligible.

For more information about Chronos' veCHR token, check out their Gitbook.
---
About Chronos
Chronos Finance is a community driven liquidity layer & AMM on Arbitrum, that uses a vote escrowed model to drive Liquidity to the highest volume pairs.
Website | Twitter | Discord | Telegram | Medium
About Impossible Finance
Impossible Finance is the go-to crypto investment platform that empowers you with high-quality, fair and accessible crypto opportunities. We simplify DeFi so you can enjoy fairer investing, cheaper trading and better yields through our accelerator, launchpad, and swap platform.
Website | Twitter | Discord | Telegram | Blog

Terms & Conditions
Risk Warning: Trading and/or generally investing in any cryptocurrency involve significant risks and can result in the complete loss of your capital. You should not invest more than you can afford to lose and you should ensure that you fully understand the risks involved. Before investing, please consider your level of experience, objectives, and risk tolerance, and seek independent financial and legal advice if necessary. It is your responsibility to ascertain whether you are permitted to use the services of Impossible Finance based on the legal and regulatory requirements of your country of residence and/or applicable jurisdiction(s).
The information provided on this website does not constitute investment advice, financial advice, trading advice, or any other sort of advice and you should not treat any of the website's content as such. Impossible Finance does not recommend that any cryptocurrency should be bought, sold, or held by you. Do conduct your own due diligence and consult your financial advisor before making any investment decisions.