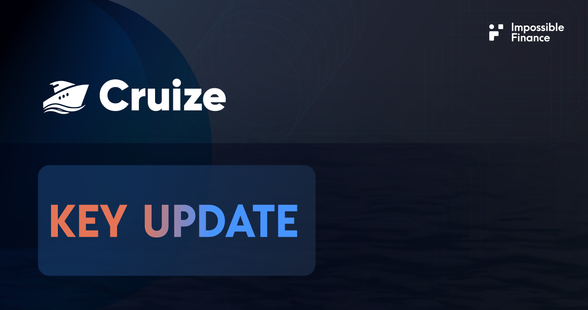 Impossible IDO #19 — Cruize Finance Key Update
Hey there, Penguins! 🐧
We would like to inform you that the staking subscription period for Cruize Finance has just ended on the Impossible Launchpad with a high of US$250,000 worth of IDIA & vIDIA tokens committed in staked capital.
Thank you for all your participation in Cruize Finance IDO!
Below are important details you should be aware of:
⚠️ Token Claim / Distribution:
CRUIZE is a native token of the Cruize Finance blockchain.
Users who purchase CRUIZE during the purchase period will receive their CRUIZE token via airdrop on Arbitrum chain.
The TOP 25 participants in each pool of our CRUIZE IDO will be rewarded with a 10% bonus in CRUIZE tokens based on their purchase amount. Essentially, this means you'll receive an additional 10% in CRUIZE tokens over your initial allocation.
⚠️ CRUIZE Token Listing Venue:
Listing Pairs: CRUIZE/USDT
Listing date:  Goes live at 18/07/2023 at 5:00PM (UTC) for BitMart Exchange. Kindly refer to Cruize Finance and Impossible Twitter account for the latest details.
Listing venue: BitMart Exchange
⚠️ Cruize Finance Key Highlights:
Cruize Finance will be launching an upgraded v2 architecture in the coming months with a smoother options flow, no capital locking requirements and complete removal of credit and counterparty risks.
Impossible x Cruize Finance Buy-back Protection Program provides 70% downside protection from the CRUIZE token public sale price.
⚠️ More on Cruize Finance:
Official Links:
Thanks for your amazing support and let's BUIDL the Impossible together!
---
About Cruize Finance
Cruize Finance provides volatility-protected yield opportunities on crypto. The protocol provides vaults for users to stake their capital and generate safer yields using combinations of derivatives and bonds in pre-packaged instruments called structured products.
Website | Twitter | Discord | Medium

About Impossible Finance
Impossible Finance is the go-to crypto investment platform that empowers you with high-quality, fair and accessible crypto opportunities. We simplify DeFi so you can enjoy fairer investing, cheaper trading and better yields through our accelerator, launchpad, and swap platform.
Website | Twitter | Discord | Telegram | Medium
Terms & Conditions:
Impossible reserves the right in its sole discretion to amend or change or cancel this announcement at any time and for any reasons without prior notice.
Users need to complete their KYC and also be from an eligible jurisdiction to participate in this token sale.