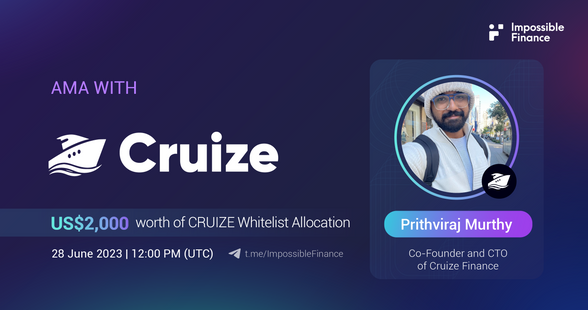 The Impossible Finance x Cruize Finance AMA
Activity period: 28/06/2023, 12:00 PM (UTC)
Do you have burning questions on our launchpad CRUIZE token sale? The best time to ask your questions is during our AMA on 28/06/2023 at 12:00PM UTC in our own Telegram.
Co-Founder and CTO of Cruize Finance, Prithviraj, will personally answer your questions regarding the Cruize Finance project!

What's more, there is up to US$2,000 worth of CRUIZE whitelist allocation to be won during our AMA! (subject to local rules and regulations)

Format
Part I: Cruize Finance Interview with Prithviraj
Part II: Quiz with 10 Multiple Choice Questions and 5 Short Open-Ended Questions where we will randomly choose 15 winners with the answers with the best answers to win US$100 CRUIZE Whitelist Allocation
Part III: Community Questions, the 5 best questions selected by Prithviraj will win US$100 CRUIZE Whitelist Allocation
Our AMA will be held in our telegram group at:
---
About Cruize Finance
Cruize Finance provides volatility-protected yield opportunities on crypto. The protocol provides vaults for users to stake their capital and generate safer yields using combinations of derivatives and bonds in pre-packaged instruments called structured products.
Website | Twitter | Discord | Medium

About Impossible Finance
Impossible Finance is the go-to crypto investment platform that empowers you with high-quality, fair and accessible crypto opportunities. We simplify DeFi so you can enjoy fairer investing, cheaper trading and better yields through our accelerator, launchpad, and swap platform.
Website | Twitter | Discord | Telegram | Medium

How to purchase IDIA Tokens
Terms & Conditions:
Impossible reserves the right in its sole discretion to amend or change or cancel this announcement at any time and for any reasons without prior notice.
Users need to complete their KYC and also be from an eligible jurisdiction to participate in this token sale.