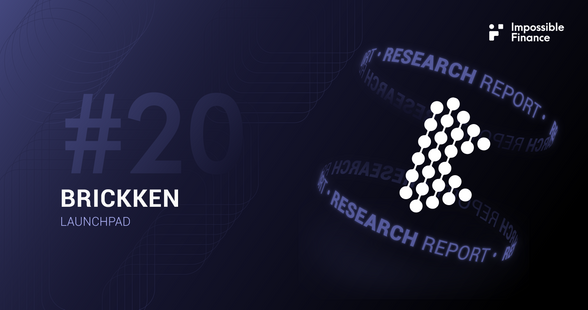 Impossible Finance Research Report #20 — Brickken
Impossible's research analysts dive into Brickken — the project revolutionizing the tokenization of real-world assets on-chain and our 20th IDO! Find out more about the project highlights, tokenomics, team and more in our research report!
Context
Over the past years the financial industry is increasingly noting the potential of blockchain technology to dramatically improve the transfer, trading and settlement of financial assets. This fact has been increasingly relevant over the past months with the release of the Boston Consulting Group's report on Asset Tokenization (predicting the potential tokenization of $16T in value for 2030).
This is in-line with the Real World Asset (RWA) tokenization vertical growth in the Web3 space, bringing all kind of traditional assets (real state, public/private debt, luxury goods, and securities among others) to be able to be representad and traded over Web3 rails. It is worthwhile to note that clarity on regulatory frameworks worldwide are facilitating the development of securities on blockchain, and secondary markets, as evidenced by the pilot regime for market infrastructures in the European Union. This fact has the potential to be a large catalyst for the blockchain industry, as it has the potential to securities quickly increase managed TVL by transferring already existing value into the ecosystem.
Key benefits for RWA tokens issuers and holder include increased liquidity, complete transparency & traceability, faster and cheaper settlement, and composability with Web3 ecosystem. However, there are significant blockers that public and private entities need to circumvent to achieve the tokenization of their assets, namely:
Compliance with local and global regulations
Smart contract development and audit
Token management
Token sales operations
Project Overview
Brickken offers a solution for these entities, being a one-stop shop for RWA tokenization covering the three main stages of token life-cycle: minting, offering and managing. In this way, Brickken offers and end-to-end solution specially designed for entities issuing and offering highly regulated Security Tokens.
Firstly, within the minting phase, Brickken's Token Suite offers access to:
A trusted network of technical and legal experts to ensure regulatory compliance
Generation and deployment of smart contracts
Pre-distribution of generated tokens
In a second stage, the token offering phase is supported with tools to comprising:
A ready-to-use landing site for investors
No-code token sale web page builder
KYC/AML management
On-ramp services for users
Lastly, during the last stage of token's life cycle the Token Manager features:
Token distribution panel
Communication channels for issuers and holders
Panel for earnings distributions for token holders
Secondary market for security token sales
The following table summarizes Brickken's business model, that has been designed to capture value from each stage of the project's life cycle.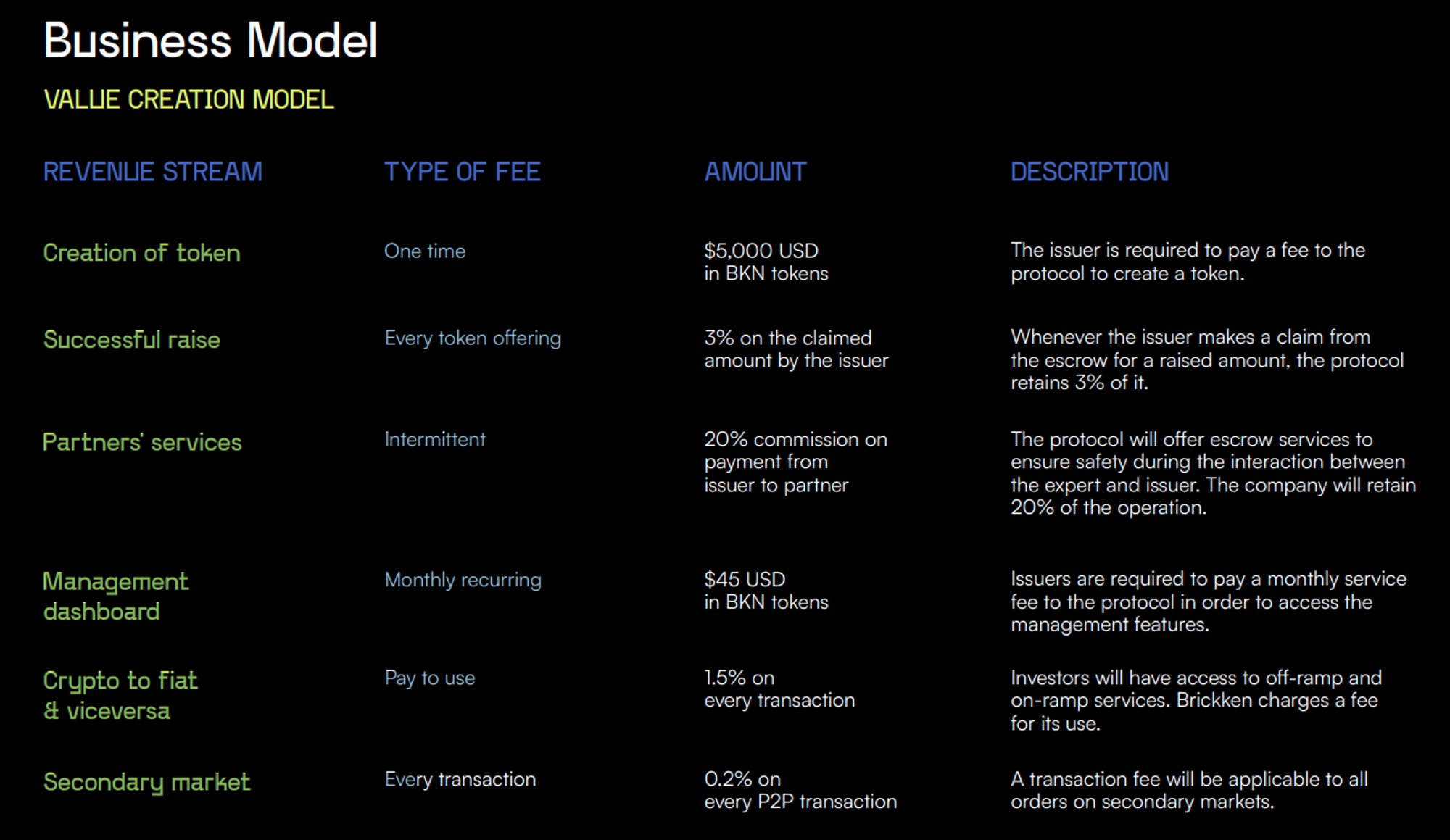 Project Highlights
Brickken platform launched in February 2023 and over the next 3 months it has managed to:
Open 3 tokenization sales, one of them succesfully closed and two currently running. Over $3M USD already raised in those sales
Over $125k in revenue signed since launch in February 2023
$130M USD of already tokenized assets by clients, with 20 additional tokenization contracts already signed
Accepted into the Spanish Regulatory Sandbox, allowing us to test our dApp in conjunction with the Spanish Securities Exchange Commission and the Bank of Spain
Backed by the Spanish government with $350k non-dillutive grant
Strong community with over 49k, 16k and 9k followers on Twitter, Telegram, and Discord; respectively
Partnered with GSR and Gotbit for Market Making
Quick Metrics for Impossible Finance Launchpad
TTS Allocated to Impossible Launchpad: 4,200,000 BKN
Public Sale Token Price: 1 BKN = US$0.13 USDT
Total Token Supply (TTS): 150,000,000 BKN
The Brickken team is composed of 24 experts. These individuals come with extensive experience in technology, law, finance, and marketing. Notably, 11 of the team members are lecturers at colleges and business schools in Europe.
Team
Highlighting the founding team:
Tokenomics
Token Utility
BKN is a utility token that will fuel Brickken's business operations, featuring the following use cases for the different actors within the Brickken ecosystem:
Payment of Token Issuance and Token Management Subscription fees for Security Token Issuers.
Access to Brickken's DAO with exclusive perks from token issuers and Brickken
BKN Staking for preferred positioning in experts marketplace and activation of referral programs for partners
Discounts for investors for payments using BKN tokens
Liquidity management
Brickken team will commit up to 300k on initial liquidity to be distributed among a centralized exchange (TBA) and Uniswap.
To increase liquidity and accrue value for the BKN token, Brickken team has designed the concept of liquidity vault in which BKN tokens and stables will be accumulated from the following sources:
BKN tokens from tokenization payments and from liquidity allocation (see more below in the Distribution section),
Stable tokens from success fees on projects raising on the Brickken platform.
In this way, token issuers buying BKN tokens from the market to execute payments results in a net buy pressure, while the success fees accrued paired with those BKN tokens contribute to further market depth.
Distribution
The following table details the token distribution and release schedule, highlighting that Impossible Finance investors are part of the Public Round 2 batch.
Note on team allocation: 90% of team's allocation has been contractually commited to extend its vesting for one additional year, ending on 2026. This includes 360000 BKN from the 400000 BKN tokens to be released over the first month.
| Distribution | Token | Percentage | Comments |
| --- | --- | --- | --- |
| Comunity round | 25,000,000 | 16.67% | 6 mo. cliff + 1 year linear vesting |
| Treasury | 42,500,000 | 28.33% | 1 year cliff + 5 years linear vesting |
| Team | 25,000,000 | 16.67% | 10% released 1 month after TGE + 3 years linear vesting |
| Liquidity vault | 12,000,000 | 8.00% | 10% of the liquidty vault is liberated for every 1M tokens being vested |
| Advisors | 2,500,000 | 1.67% | 1 year cliff + 6 mo. linear vesting |
| Air drop | 1,500,000 | 1.00% | Executed at TGE |
| Strategic round | 26,500,000 | 17.67% | 1 year cliff + 6 mo. linear vesting |
| Public round 1 | 6,000,000 | 4.00% | 18 mo. linear vesting |
| Public round 2 | 6,000,000 | 4.00% | 11 mo. linear vesting, 20% released at TGE |
| Comunity incentives | 3,000,000 | 2.00% | Released in three tranches at months 6, 12 and 18 after TGE |
| Total | 150,000,000.00 | 100.0% | |
Roadmap
Brickken's roadmap contains the following catalysts for it's expansion over the next 12 months:
Expert network marketplace (Q2 2023)
BKN token launch (Q3 2023)
Multichain expansion, currently exploring BNB Chain, Base and Avalanche as candidates (Q3 2023).
Sales listings of over 20 signed projects (Q3 & Q4 2023)
New platform features:
Token Store Themes Marketplace (Q3 2023)
Dynamic Legal Policies Templates (Q4 2023)
Governance (DAO) Management (Q3 2023)
Ambassadors Program Expansion (Q4 2023)
Tokenizations Types Expansion (Q1+ 2024)
BKN Holders Club Launch Event (Q2 2024)
Competitive landscape
It is worth highlighting that the tokenization of securities industry is currently being led by Securitize and Polymath platforms, both with over 5 years in the market. Despite this fact, the maturity of the technology and additional clarity arriving to the blockchain space could serve as catalysts to take the industry into mainstream adoption.
For benchmarking, it is worth to highlight that Polymath's valuation is currently 127M USD (fully diluted) and, although not having token representation, Securitize has raised over 100M USD in investments.
The following chart displays the additional value proposition that Brickken will bring to the space, offering a more complete set tools to enable the success of new issuers in the space.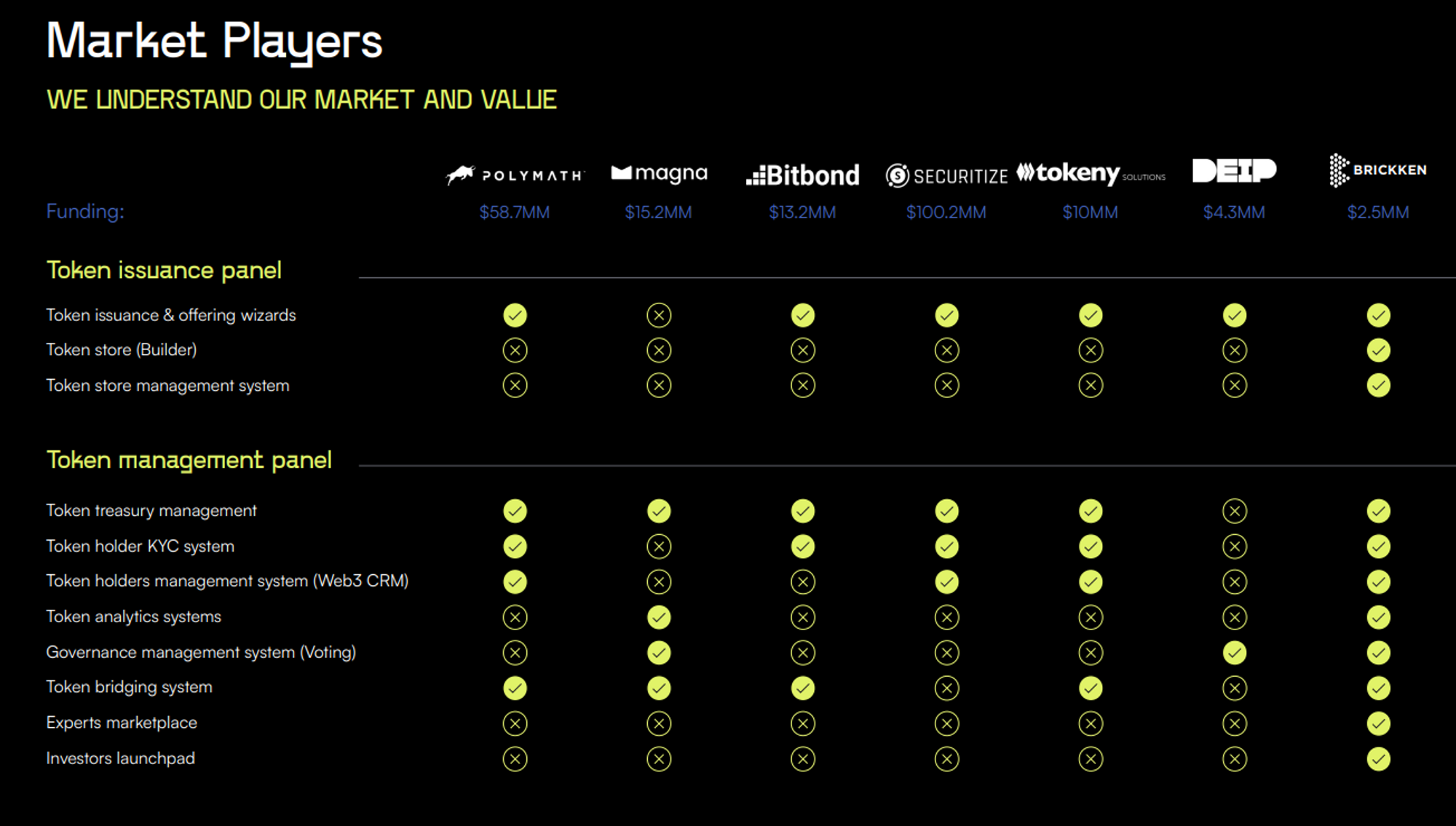 IDO Details
For more information, check out the Brickken IDO announcement here!
Participate in the Brickken IDO here.
Risk evaluation
Impossible Finance's team has identified as main risks associated with Brickken (a) potential changes in the regulatory landscape that limit the growth of the space as a whole, and (b) a failure to position themselves and gaining traction in this market.
Regarding point (a), this risk is mitigated by the constant research and monitoring of the legal landscape executed by Brickken's internal team in conjunction with their vast network of legal experts that are already acting accross several jurisdictions. The acceptance into the Spanish Regulatory Sandbox and collaboration with the Spanish SEC and the Bank of Spain are evidence of the capabilities of the Brickken team in this regard.
Related to point (b), Brickken's team has shown the capacity of successfully sourcing and closing over 20 tokenization projects in their short timeline, while having leads looking to tokenize over 200M worth of RWAs.
---
About Brickken
Brickken simplifies the creation, selling and management of digital assets, by providing a comprehensive platform with user-friendly tools, making it effortless for companies to tokenize.
Website | Twitter | Discord | Telegram | Blog
About Impossible Finance
Impossible Finance is the go-to crypto investment platform that empowers you with high-quality, fair and accessible crypto opportunities. We simplify DeFi so you can enjoy fairer investing, cheaper trading and better yields through our accelerator, launchpad, and swap platform.
Website | Twitter | Discord | Telegram | Blog
Terms & Conditions
Impossible reserves the right in its sole discretion to amend or change or cancel this announcement at any time and for any reasons without prior notice.
Only users that have participated in Impossible's IDO#20 Brickken Token Sale will be eligible for this buy-back protection. Specifically, only KYC'ed wallet addresses that have purchased and claimed BKN tokens on the Impossible Finance Launchpad will be protected.
Users need to complete their KYC and also be from an eligible jurisdiction to participate in this token sale.