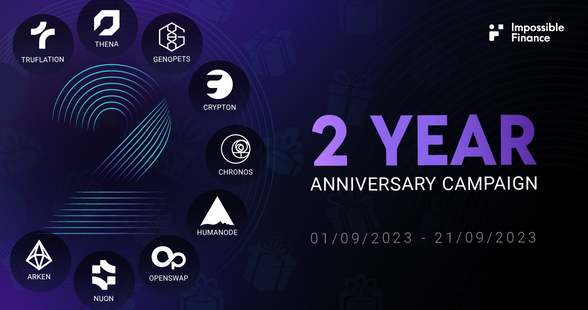 Impossible's 2-Year Anniversary Mega Campaign — Featuring Projects like Genopets, Thena Finance, Truflation and more!
Impossible Finance turns 2 and we're celebrating with a big birthday bash! Take part in our mega campaign with our partner projects Genopets, Thena Finance, OpenSwap, Chronos, Crypton, Arken Finance and Humanode for a chance to win prizes of over $8000!
Updated as of 05/09/2023 — New partner addition to the campaign, Arken Finance. More details can be found below.
Hey, Impossible Finance family!
With hearts full of gratitude and excitement, we raise our virtual glasses to each and every one of you who have been a part of this extraordinary journey. It's hard to believe that two years have flown by since we embarked on this audacious mission to reshape the future of finance together.
This year, we are excited to commemorate our 2nd anniversary with some of our dearest partners and frens who have been integral in shaping Impossible Finance to what it is today. The amazing campaign partners includes Genopets, Thena, Truflation, Nuon, OpenSwap, Humanode, Chronos, Arken Finance and Crypton.
Together, let's celebrate with our 2-Year Anniversary Mega Campaign and continue #buidling the Impossible together!
How to Participate?
The 2-Year Anniversary Mega Campaign unites some of Impossible's closest project partners to bring users exciting prizes across all participating projects.
Simply complete as many tasks as possible on our Zealy for the different projects! The top 100 users with the highest points for completing all campaign tasks will stand a chance to win from our bundle of prizes!

Participate in the mega campaign now!
Prizes Galore
121 winners will get a chance to win prizes from our participating projects! The prize pool include:
$4000 worth of GENE and NFTs — 40 winners
$1000 worth of NUON — 10 winners
USD$1000 worth of HMND — 10 winners
USD$1000 worth of veCHR tokens — 10 winners
USD$500 worth of THE — 10 winners
Staked OpenSwap troll NFT worth 50,000 OSWAP — 5 winners
Staked OpenSwap troll NFT worth 150,000 OSWAP — 1 winner
15 monthly subscriptions to Crypton private community — 15 winners
555,000 of ARKEN tokens — 20 winners
The top 121 users with the highest XPs collected from completing the most tasks will stand a chance to win from the prize pool through a random lucky draw!
---
About Impossible Finance
Impossible Finance is the go-to crypto investment platform that empowers you with high-quality, fair and accessible crypto opportunities. We simplify DeFi so you can enjoy fairer investing, cheaper trading and better yields through our accelerator, launchpad, and swap platform.
Website | Twitter | Discord | Telegram | Blog
Terms & Conditions
Risk Warning: Trading and/or generally investing in any cryptocurrency involve significant risks and can result in the complete loss of your capital. You should not invest more than you can afford to lose and you should ensure that you fully understand the risks involved. Before investing, please consider your level of experience, objectives, and risk tolerance, and seek independent financial and legal advice if necessary. It is your responsibility to ascertain whether you are permitted to use the services of Impossible Finance based on the legal and regulatory requirements of your country of residence and/or applicable jurisdiction(s).
The information provided on this website does not constitute investment advice, financial advice, trading advice, or any other sort of advice and you should not treat any of the website's content as such. Impossible Finance does not recommend that any cryptocurrency should be bought, sold, or held by you. Do conduct your own due diligence and consult your financial advisor before making any investment decisions.