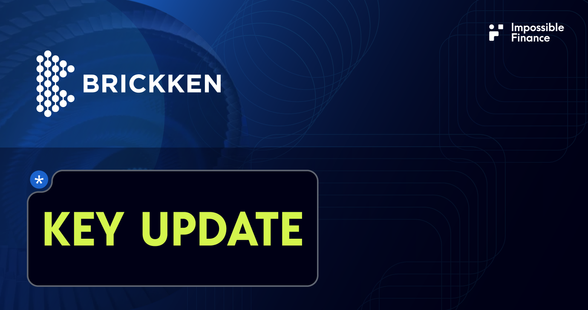 Impossible Finance IDO #20 — Brickken Key Updates
Hey there, Penguins! 🐧
With the Claim Period and Listing for Brickken BKN approaching soon, we would like to share more about Brickken performance on the Impossible Launchpad! At its peak, the Brickken IDO saw USD$230,000 worth of IDIA & vIDIA tokens committed in staked capital.
Thank you for all your participation in Brickken Finance IDO!
Below are important details you should be aware of:
⚠️ Token Claim / Distribution:
BKN is a native token for Brickken
*Users who purchase BKN during the purchase period can claim their BKN tokens via the Impossible Launchpad on 25/07/2023, 11AM (UTC)
*Please note that at TGE on 25/07/2023, 11AM (UTC), only 20% of BKN tokens will be claimable. Remaining BKN tokens will be unlocked on a monthly basis. More details here.
⚠️ BKN Token Listing Venue:
Listing Pairs: BKN/USDT
Listing date:  Live at 25/07/2023 at 12PM (UTC)
Listing venues and dates:
• Bitmart: 25/07/2023 12PM (UTC)
• MEXC: 25/07/2023 12PM (UTC)
• Uniswap: Listing details to be announced soon
Kindly refer to Brickken and Impossible's Twitter accounts for the latest details.
⚠️ Brickken Key Highlights:
Partnerships with Chainlink & Cointelegraph
Over USD$120M tokenized by clients, with $2.5M raised by them
Impossible x Brickken Buy-back Protection Program provides 70% downside protection from the BKN token public sale price.
⚠️ More on Brickken:
Official Links:
Thanks for your amazing support and let's BUIDL the Impossible together!
---
About Brickken
Brickken simplifies the creation, selling and management of digital assets, by providing a comprehensive platform with user-friendly tools, making it effortless for companies to tokenize.
Website | Twitter | Discord | Telegram | Blog
About Impossible Finance
Impossible Finance is the go-to crypto investment platform that empowers you with high-quality, fair and accessible crypto opportunities. We simplify DeFi so you can enjoy fairer investing, cheaper trading and better yields through our accelerator, launchpad, and swap platform.